CINDY HARRIS | DIRECTOR
Hi, my name is Cindy Harris. I am a freelance court reporter by profession, but pretty much all my spare time is spent on rescue matters. Though I have rescued many cats one way or the other throughout my adult life, I started following the dog rescue community on Facebook in 2012 and took on my first dog foster in that November. I was exclusively a cat owner, so this was a big change for my home! Though my cats don't exactly LOVE the presence of dogs, they have been pretty tolerant overall.

I was involved with one rescue during these past three years plus, trying to be involved much more than just fostering, by running adoption events, approving applications, and various other administrative duties.

The other two directors of HHFR and I feel we have an excellent team to start our new rescue and have high expectations for our future! Thank you for checking us out and please join us in any way you can to fight the homeless dog situation in the Houston area.

You can support by sharing, donating, volunteering, and most importantly FOSTERING.



---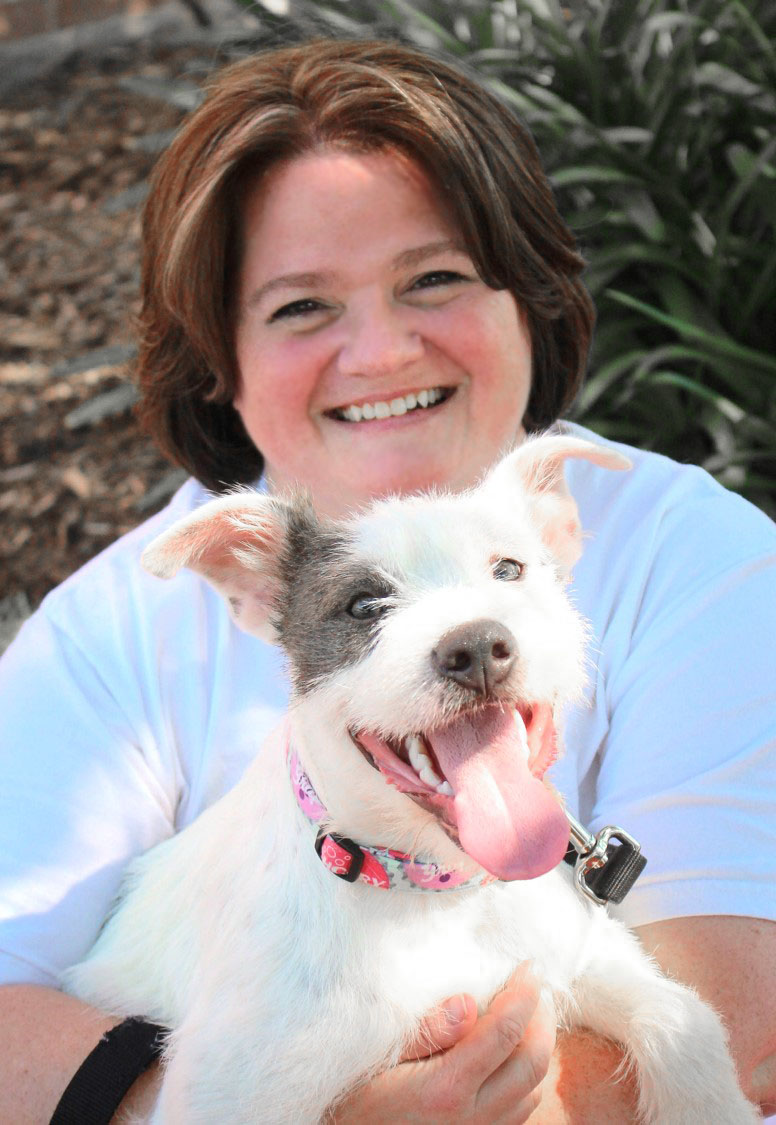 STEPHANIE MASHBURN | DIRECTOR
I cannot remember a time in my life that I didn't love animals. But in hindsight, I did everything that would make a rescuer cringe. I had been rescuing and returning lost pets for years, keeping a few that when I couldn't find their owners, but there is a distinct point when I truly became a rescuer.

I was walking my dog when I saw two young dogs on the main street near my home. I took my dog home, and jumped in my car to go catch these two dogs. My goal was to reunite them with their owners. With the help of another lady blocking traffic, we were able to get them in my car. Back at my house, I was able to get the Vet's number off an old rabies tag. The Vet's office called me back and was nice enough to give me the address. I loaded them in my car to take them home. I went up to the door and knocked; but the person that answered the door said they didn't own any dogs. I saw a beware of dog sign on the fence, two water bowls inside the fence along with an old igloo dog house, but THEY DIDN'T OWN ANY PETS! I went back to my car where two dogs were happily wagging their tails until I started driving away with them still in the car. My blood boiled.

You see, before that incident I thought every dog had a home. I thought every stray got out of their yard and just needed a helping hand to find their way back home. I thought every owner loved their pets. I thought every owner would be frantically searching for their missing family member, in that one instant, I became a rescuer. Over the last three years, I have been volunteering with one specific rescue, while still working with lost dogs. Honoring Hope and Faith Rescue, Inc. (HHFR) is the next step in my journey as a dog rescuer.

HHFR has an excellent team and have high expectations for our future! Thank you for reading about our journey and consider joining the battle to erase the homeless dog epidemic in the Houston area.



---
KAYLA PIPPIN | DIRECTOR
I have always loved dogs and I currently have two of my own and one foster dog. I currently work full time as a Proposal Manager for a large commercial real estate firm in Houston. My dog, Northwood was my first rescue who I found on my street at only 6 weeks old, dirty, full of worms and exhausted.

Living in the Heights it was common to see strays on our streets and I knew I had to somehow get involved. At the time I was following Melrose Park Neglected Dogs and they were posting for a foster for a dog they found kicked in the ribs, flea infested and strangled by a collar that was on too tight. I immediately stepped up to foster this sweet boy and never looked back. My fostering journey began in November of 2014 and I quickly realized my passion for saving dogs. I have been with the same rescue until starting Honoring Hope and Faith Rescue with Cindy and Stephanie.

After my old girl Gracie passed away in 2021, I finally foster failed! After all my years of fostering bully breeds, I adopted my foster Dexter who is an American Pitbull Terrier.


---
JENEVI GONZALEZ | DIRECTOR
People think I'm joking when I tell them my world revolves around dogs. As someone who's a pet sitter and dog walker by profession who needs a service dog and has a passion for rescue, it is very true. After growing up on animal planet and the discovery channel, I've always known I have wanted to be involved with animals. With animal cops showing me how terribly unfair people and the world could be to them, I knew I had to help in some way that wasn't just mailing a check.

By the time I was eight years old, I spent my summers walking dogs for Harris County pets that held events at the mall my dad worked at. I would talk up anyone who would walk by telling them all about who was available then spend the rest of the time just playing with them. Unfortunately, due to life events I was no longer able to help but still felt a calling to help. High school came along, and we had an animal group where we would all volunteer. We did shifts with Halters Inc during their pumpkin patch as well as cleaning enclosures at our science resource center. Once I graduated high school, I started fostering kittens and then dogs from BARC which then moved to working with different rescues until I found the perfect fit in 2017.

My work and experiences helped teach me many things like how to correctly care for animals, how to read dog body language and effective training techniques that help dogs that have been given up on. It all has shown me how lucky I am to have found and been accepted to work with HHFR. It's honestly a rescue like no other in the absolute best way possible!
---
MELODY HAEFFNER | DIRECTOR
I was born and raised in southern Missouri and grew up with land and always had livestock. I found my first dog, Anberlin when I was 17 years old. Having her, opened me up to the world of rescue. She had several medical conditions. Being her momma taught me so much that I use every day in the rescue world. I loved animals but didn't understand the need or importance of rescue until 2012.

I started fostering for a local rescue. In the beginning, I fostered bottle babies and over the years slowly transitioned and evolved into being a whelping, special needs, and sometimes hospice foster. I am a mom to an amazing little girl. My daughter, Harmony is probably the coolest kid you will ever meet! She is my partner in crime and fosters right along with me. I have taught her the importance of rescue and she has the most compassionate heart.

As a director, I have found my place in rescue, and I am excited to continue saving dogs and educating the community.